Wirral's leading digital marketing agency, Revolution Four, have launched their very own podcasting arm, Rev4 Unplugged.  Following on from lessons learned from Radio Wirral, the team have kept the best bits of the station and have developed it into a rounded & professional offering for 2021.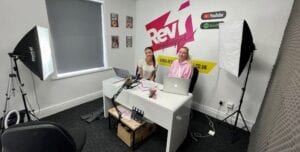 Businesses & influencers have realised the benefits of using a podcast for marketing, social media, websites; getting their message across to their clients.  We have a purpose built, sound-proofed studio to ensure top quality podcasts.
We have been discussing a range of topics from business growth, marketing, sales, motivation, blogging, branding, Google; the list goes on – find something you're interested in here on Youtube
If you would like to feature on one of their podcasts to promote your business, get in touch with the team on 0151 348 7044 or email our Head of Production, Charlotte Garland.
For more information visit Rev4 Unplugged