Work from Anywhere is the new Work from Home
We were delighted to finally reopen our doors & welcome our tenants back into the office. We aim for that 'hotel' feel, so we've missed seeing other humans. However, far from 'returning to normal' we have seen a new trend this year, with businesses taking a hybrid approach to where staff work.
Working from home can be great & millions of workers have appreciated the freedom it allows. However, after a year of lockdowns, the novelty of sitting on the sofa, laptop on pyjamas, has somewhat worn off. Staff have missed not only the social aspects of an office but also the ability to develop; it's easy to ask a quick question in the office, less so over email.  Communication & understanding diminishes whilst working from home.
The trend we are seeing this year is a hybrid solution, people opting to work a mix of the office and home, getting the best of both worlds. Social contact, meetings, discussions in the office, but then the serenity of being at home to concentrate on a project.  With so many people now working on cloud based software, a laptop is often all that is needed, so they can literally work from anywhere with internet connectivity. One tenant has taken this hybrid approach, enabling them to reduce office space (& thus overheads) whilst giving their staff the advantages of both.
We've seen an influx of businesses dumping the city centre in favour of more suburban, relaxed offices within easy reach of home. Little things like being able to park for free, or bring your dog to work, make a big difference to people's lives. We don't believe that the work will return to normal, rather we've entered a new era where working practices have evolved to suit the human rather than the other way round.
Working From Anywhere has seen our virtual admin & reception services boom. People are happy to be based at home provided their address is kept separate from their company, so many use the Hub as their mailing address. This ensures that enthusiastic salesmen, keen tax inspectors, suppliers, etc are kept at arms length. Clients and others are presented with a friendly, professional impression, plus our receptionists are there to receive & sign for mail or parcels.
Some clients collect their mail, others we forward to them, whilst some ask us to open, scan & email their mail, particularly overseas companies using our address for a presence in the UK.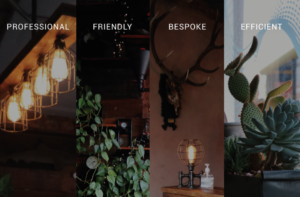 Similarly we also do the same with phones, thanks to our cutting edge cloud based telephony system. Our lovely receptionists answer your phone, in your business name & present ourselves as your company. They can do a number of admin functions like booking jobs or quotes, take payments, messages; any basic admin tasks.
Home & mobile based workers find this handy to allow them to concentrate on their core business without the stop start distraction of the phone. It also means they don't have to deal with sales or spam calls. With several telephonists on hand, it also means your business can handle several calls at once.  We appreciate how important it is to ensure every call is answered. With loads of options for call handling, it allows business owners to subcontract their reception for the fraction of the price of having staff.
The Future
We will be reintroducing our pop-up shops, a big hit with pre-lockdown visitors.  It's a great opportunity for smaller, artisan businesses to show off their wares. We also have a few events planned for the summer, including a garden (well yard) party with a giant paella from our fiends at the Seafood Shack. At the rear of the hub we are currently developing a state-of-the-art, purpose built veterinary surgery for Sanderson Vets. So lots of exciting new developments as we look forward to a more positive 2021.